Christmastide at the Art Gallery of Ballarat
Sunday, December 2, 2018
2.00pm
Join the Courtly Arts Performers of Victoria as they bring to life customs and revelries of Christmastide from the time of the Tudors and Stuarts! With choreography and costumes based on meticulous research and using period instruments, the group present the music, song and dance of a more chivalrous age to recreate a vanished era with unrivalled passion and authenticity. For this concert they will be joined by singer Natalie Maroki and narrator David Ranson.
In Christmastide, English customs from the time of the Tudors and Stuarts are matched with music, dances and songs from the Western European courts of the time. Instruments include Renaissance and Baroque recorders, viols, Renaissance lute, crumhorns, curtals and hurdy gurdy.
Let's dance and sing, and make good chear,
For Christmas comes but once a year;
Draw hogsheads dry, let flagons fly,
For now the bells shall ring.
For over forty years, the Courtly Arts Performers of Victoria (formerly the Rippon Lea Dancers, Early Music Consort of Melbourne and associate artists) have been entertaining audiences throughout Victoria with music, dances, songs and stories from the Medieval, Renaissance and Baroque periods. All performances feature costumes and instruments appropriate to the period
Book via the Art Gallery website HERE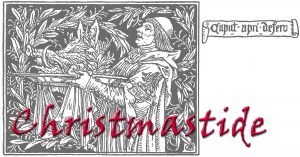 Please e-mail us if you have any issues or questions around booking tickets.
Sign up to our newsletter below to receive updates on upcoming events