POSTPONED – DUE TO VICTORIA GOVERNMENT LOCKDOWN
*New date to be advised*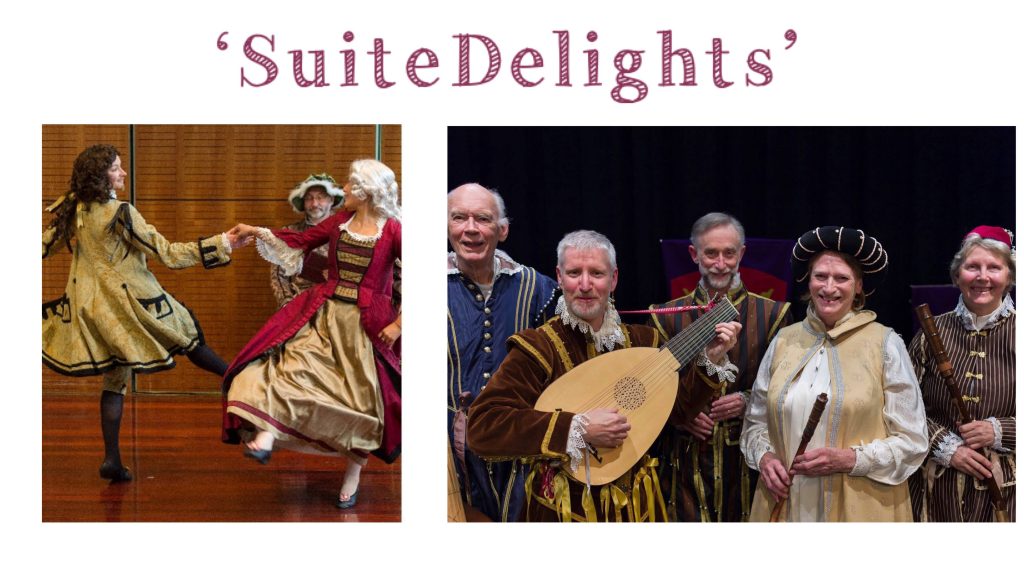 The evolution of the instrumental suite from Medieval to the Baroque
The instrumental suite or sonata de camera – the practice of linking related pieces of music to form a larger work – began with dances in Medieval times.  This practice was taken up by instrumentalists in the Renaissance and evolved into an important musical style in the Baroque.
In this concert, the Early Music Consort of Melbourne and the Rippon-Lea Baroque dancers will delight you with an exploration of the suite through the works of Attaingnant, Tomkins, Schein, Locke and others.
Sunday 30th May 2021   2pm
Trinity Brighton Uniting Church
15 Black Street,
Brighton, Victoria, 3186
Tickets: Full $25, Student / Senior: $20
Available through Try Booking or at the door.
---
COVID-19 – Concerts update
Due to the increasingly serious situation with COVID-19, the Courtly Arts Performers of Victoria Inc. have decided, with regret, to cancel the May 2020 'Steps Back in Time' concerts. We plan to incorporate the repertoire into the November/December 2020 Christmas pageants.  This decision was taken to safeguard the health and wellbeing of our performers, our patrons and our audience community.
These uncertain times will have a significant impact on our live performance industry and we stand with our arts community in this crisis. In the coming weeks, we will be working on ways to bring the joy of Medieval, Renaissance and Baroque dance and music to you via our website and social media.
Thank you for your patronage and support during this time.
For updated advice and information from the Federal Department of Health, please click here.
[vcex_spacing]
[vcex_spacing]
A Yuletide Pageant
We mark the festive season with a courtly celebration of dance and music spanning four centuries, performed in sumptuous Renaissance and Baroque costumes.
[vcex_spacing][vcex_image_grid img_size="full" image_ids="1838,1808,1850,1851,1843,1845,1844,1841,1837,1842,1846″][vcex_spacing][vcex_spacing]
A Room in Europe

Chamber music, dance and song from the Baroque era. Performed by the Early Music Consort of Melbourne, Baroque dancer Yoko Murakoshi and soprano Sarah Louise Amos.
[vcex_image_grid img_size="full" image_ids="1853,1854,1855,1856,1857,1858″][vcex_spacing][vcex_spacing]
The European Courtier

"A gentleman must deliver the appearance of a nobleman; for the mysterious source of courtly gracefulness is learned through imitation – not acquired by birth." – Baldassare Castiglione from 'The Book of the Courtier', 1528.
[vcex_image_grid img_size="full" image_ids="1876,1863,1861,1871,1862,1866,1870,1869,1868,1867,1864,1872,1874,1875,1873″][vcex_spacing][vcex_spacing]
[vcex_spacing]
A Christmas Pageant

"Let's dance and sing, and make good chear, for Christmas comes but once a year; Draw hogheads dry, let flagons fly, for now the bells shall ring." Performed with singer Natalie Maroki and narrator David Ranson.
[vcex_image_grid img_size="full" image_ids="1880,1881,1890,1884,1883,1891,1886,1887,1889,1888″][vcex_spacing]
Please e-mail us if you have any issues or questions around booking tickets.
Sign up to our newsletter below to receive updates on upcoming events