2022 in review – quite a year for the Courtly Arts Performers!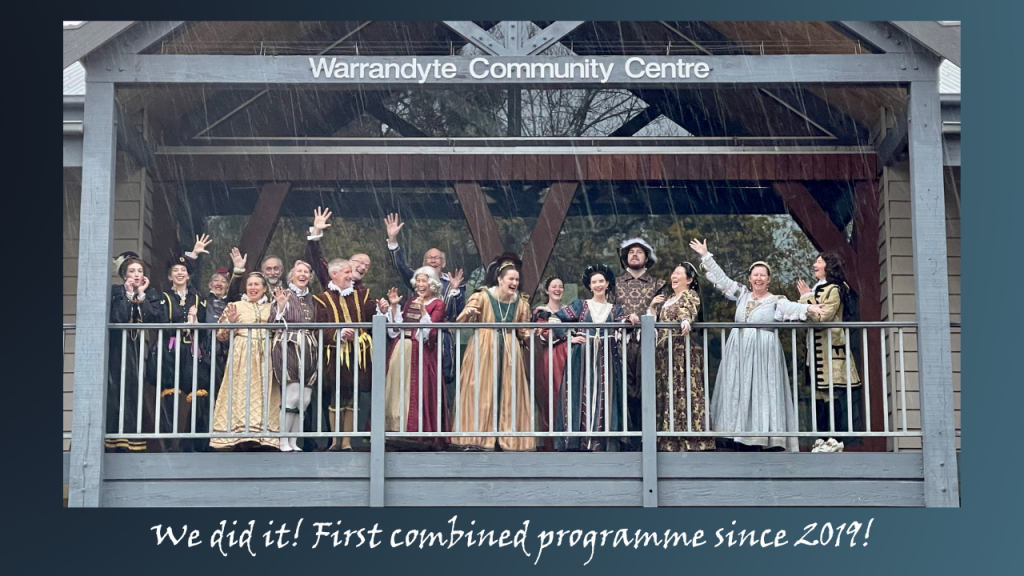 In many ways 2022 was a year of rebuilding and renewal for us, following two intense years of uncertainty, lockdowns and Covid worries.
We began 2022 as a small but committed group of performers. During the course of the year our numbers grew, as we welcomed nine beginner dancers to the renaissance group. All of our new dancers, bar one (struck by Covid at the 11th hour), were able to make their debut concert appearances. Quite an achievement!
Our 2022 Concert programmes were as follows:
Suite Delights – Baroque music and dance – this was the much re-scheduled concert we had tried to stage back in 2021.
Steps Back in Time – medieval, renaissance and baroque music and dance
A Celebration of Yuletide – medieval, renaissance and baroque music and dance
We maintained our strong affiliation with Trinity Uniting Church Brighton as our 'home away from home' concert venue, and added Warrandyte Community Centre as our second 2022 venue. The latter proved very popular, with both concerts selling out.
On a sad note, our former manager and co-founder of the group, Marcus Hill, passed away in March at the age of 87. Many current and former performers were privileged to attend his funeral at Trinity Uniting Church. Mrs Helga Hill OAM remains our much-loved patron, and we were thrilled that she was able to attend our Celebration of Yuletide concert in Brighton in November, accompanied by her daughters.
Also making an appearance at our Yuletide concert was 'retired' renaissance dancer Tonia Chapman. Tonia performed with us for many years, before moving to Queensland in 2019. It was such a pleasure to have her with us. As expected, she gave a flawless performance, despite the challenges of practising 'with us' remotely!
In addition to our weekly rehearsals and our concerts, we also held three workshops, 'An introduction to Renaissance Dance', in Warrandyte Neighbourhood House. In June we also held our evening course in Renaissance Dance. It was following these activities that we were able to recruit our new dancers.
Other 2022 achievements included expanding our costume collection in the form of two early Italian Renaissance costumes, made by Katya Kalev. We were also able to make use of some garments from Helga Hill's costume collection which had not seen the light of day in many years, worn by our new dancers. Helga was thrilled to see them!
Finally, we passed another milestone recently. Our YouTube channel has now exceeded 10,000 views! If you have not yet visited it, or subscribed, you can find it here:
We have now begun planning for our first concert programme of the year, dates in May to be advised, and begin rehearsals this week. We have workshops in Warrandyte Neighbourhood House, scheduled for Sunday 5th March, 2:30pm – 4:30pm and Sunday 2nd April, 1:30pm – 3:30pm. Bookings via TryBooking will open shortly and will be advertised here:
https://www.courtlyarts.com/courses/
Our workshops all booked out quickly in 2022, so keep an eye on our courses page!
We send you our best wishes for a happy, healthy and peaceful 2023!