Renaissance Dance Workshops - MARCH and APRIL 2023
Discover the art of dance from the European courts of the Renaissance!
We'll begin with some basic renaissance dance steps, then we'll teach you some easy 16th Century dances.
Participants should wear comfortable casual clothes and soft flat shoes, ideally ballet / jazz / Jiffy shoes.
NOTE: We will be teaching a different set of dances at our March and April workshops, so you can book for both if you wish to, with very little overlap in content.
Maximum 12 participants (adults only). No partner required.
BOOKINGS ESSENTIAL $20 per person
Venue: Warrandyte Neighbourhood House
Dates:
Sunday 5th March 2023, 2.30 – 4.30pm    Sunday 2nd April 1.30 – 3.30pm
Tap image to book for March: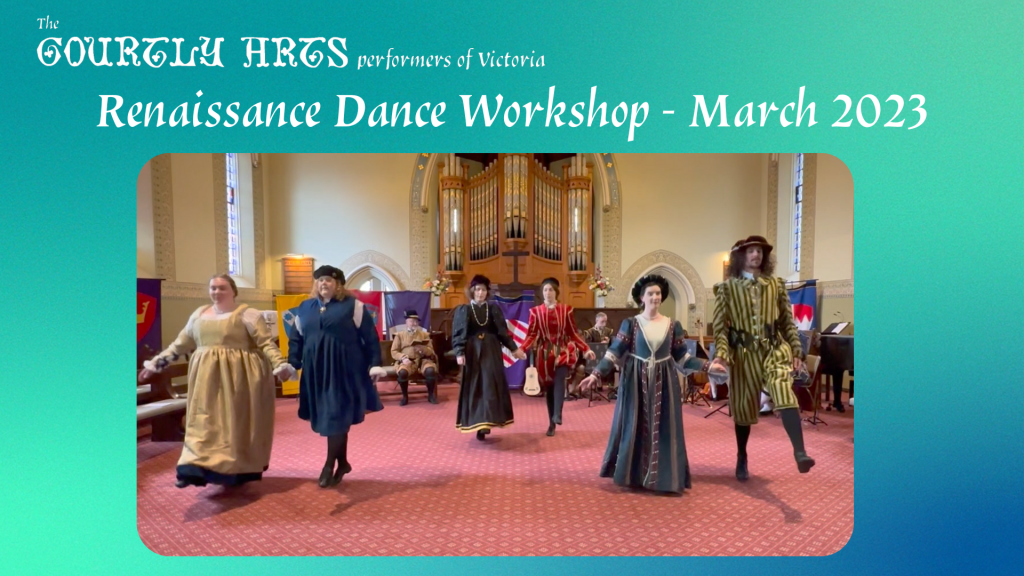 Tap image to book for 5th April: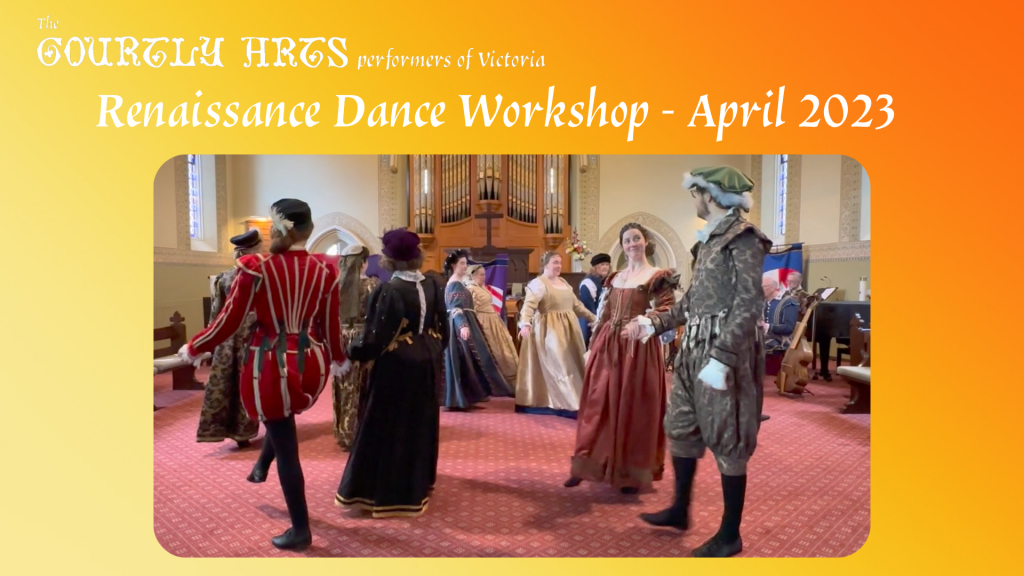 Past courses and workshops
Renaissance Dance Evening Course - June 2022
Would you love to dance like us? Here is your opportunity to discover the art of Renaissance Dance, learn some steps and simple dances, and perhaps become a member of our trainee performance group.
Session 1
You will watch a demonstration of a renaissance dance performed by senior members of the CAPV, learn a little about the background of our dancing, try some steps and learn 3 simple dances. This session covers the same content as our February, March and April workshops and is not necessary for attendees of those workshops. Total beginners need to attend this session, since knowledge will be assumed for Sessions 2, 3 & 4.
Sessions 2, 3 & 4
Your teacher will be assisted by members of the Courtly Arts Performers, to provide a more personalised learning situation.
You will watch a renaissance dance performed in full costume by senior members of the CAPV.
You will perform the dances learnt in Session 1 and move on to learn new steps and dances, including the Courante, another Almayne and figured Pavane, Branles and a Galliard (for the fit!).
At the end of the course, you may be able to join our trainee performance group.
Ticket options:
Sessions 1- 4 (8th, 15th, 22nd, 29th June 7-9.15pm) for beginners
Sessions 2 – 4 (15th, 22nd, 29th June 7-9.15pm.) For people who have already attended one of our Workshops
Bookings essential. Only 14 places available.
---
Renaissance Dance Workshops - MARCH and APRIL 2022
Discover the art of dance from the European courts of the Renaissance!
We'll begin with some basic renaissance dance steps, then we'll teach you some easy 16th Century dances.
Participants should wear comfortable casual clothes and soft flat shoes, ideally ballet / jazz / Jiffy shoes.
These are stand alone workshops, but if you attend both we will ensure we include new dances in April.
Dates: Sunday 27th March 2022 and Sunday 10th April 2022
Time: 2.30pm – 5pm
Where: Warrandyte Neighbourhood House – Level 1/168 Yarra St, Warrandyte VIC 3113
Teacher: Jan Turner
Fee: $20 per person
Maximum 12 participants. Bookings essential. No partner required.
Opportunities in 2020:
Check back soon for details of our Introduction to Renaissance dance session, and our 4 week dance course starting in June!
UPDATE: due to the uncertainties of the Covid-19 emergency, we are doubtful we will be able to run our sessions in June. We will update when we know more.
PAST COURSES & WORKSHOPS
Renaissance Dance afternoon "Winter Workshop"
The Courtly Arts Performers greatly enjoy bringing alive the music and dance of a more chivalrous era – for their audiences and because it's just great fun to do! Our Discovery Courses provide the opportunity for you to explore and share the pleasures of a bygone age.
Watch a demonstration by some of the Courtly Arts Performers in costume.
Learn some renaissance dance steps, then put them into practice as we teach you some simple 16th Century dances. Afternoon tea provided.
What a great way to spend a Sunday afternoon!
Dress: comfortable, casual clothes (not costumes), soft-soled shoes such as ballet / jazz / Jiffies preferred, but not essential.
| | |
| --- | --- |
| | |
| Dates | 25th August 2019 |
| Price | $40 Regular |
| | $30 Tertiary student |
| | |
| --- | --- |
| Time | 1pm |
| Location | St Paul's Anglican Church |
| | 63 Windella Ave, Kew East VIC 3102 |
| | GOOGLE MAP |
| Course Director | Jan Turner |
| | Jan is the most experienced Renaissance Dancer teaching in Australia today. She has deep experience teaching a wide range of dance techniques to dancers of all ages and decades performing in the Renaissance, Medieval and Baroque arts. |