The European Courtier – and more!

For there is none of you so mean and base, that hath not noble luster in your eyes.
I see you stand like greyhounds in the slips, straining upon the start. The game's afoot.

William Shakespeare, Henry V, Act 3, Scene 1

We hope you are poised to join us for indeed "the game's afoot" with the Courtly Arts Performers with not one but two opportunities to share the joys of a more chivalrous age.
---
The European Courtier
As you know, we have performances fast approaching! The European Courtier will take us all on a journey through the royal courts of renaissance Europe from England, through Flanders, France and Germany, to Italy and Spain.
For the first time, we will have a Spanish dance for solo lady, performed for us by Yoko Murakoshi. The title Oy Comamos y Bebamos ('Let us eat and drink'), marks a day of feasting and celebration before fasting. Sounds intriguing? We think so. We have yet to see it, as Yoko has been rehearsing solo too!
We are very happy to be returning to Trinity Uniting Church, Black Street, Brighton for our first performance. We are most appreciative of our loyal audience and love to bring you our programmes. This performance is on a Saturday at Brighton – 11th May, 2pm – since the following day is Mothers' Day.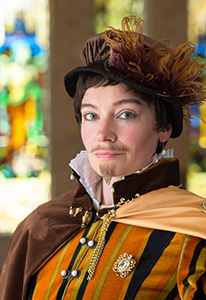 We have a new venue for our second performance; The MC Showroom in Prahran. We enjoy taking our concerts to different suburbs, and hope to find a great audience there too. We would love to see you there on Sunday 19th May, 2pm. (Access to the performance space is via a staircase.)
Booking and buying tickets
As you will be aware, last year we introduced online booking for our performances. Bookings for Brighton and Prahran are now open. Once you have booked, remember to check your email junk folder, if you don't see your receipt in your inbox. If you have difficulty, we are here to help! Here are the direct booking links:
This year our performers also have tickets to sell directly, so if you know one of us and would prefer this method, please approach us! If you prefer to buy tickets at the door, this should be available, subject to availability.
---
Renaissance Dance Discovery Course
In June 2018, we held our first beginners' course. It proved very popular and we have decided to repeat it this year. Not only does this provide a glimpse into the world of renaissance dance for the attendees, but it also allowed us to expand our own numbers! Three of our newest dancers, Sarah Amos, Tom Vollmer and Jessica Gardner, were all 'graduates' of last year's course.
There is an initial session where you can watch and work with experienced dancers to learn some of the basics of renaissance dance. You can also choose to participate in three subsequent sessions that provide a more extensive grounding in the courtly art of renaissance dance.
The first session starts on Wednesday the 5th of June.
If you are keen to join us a performer, attending this course is an ideal way to show us your potential! Numbers are strictly limited however, so please check out our website now if you are interested.