First 2022 Renaissance Dance workshop
On Saturday 12th February, we held our first Renaissance Dance workshop for 2022, at the Warrandyte Neighbourhood House. We had a delightful afternoon teaching some renaissance dance steps, followed by three dances: Pavana la Cornetta, Almayne Lorraine and Branle des Lavandières. Much fun was had by all!
Suite Delights
It was worth waiting for! On 13th February, our much-anticipated concert 'Suite Delights' finally took place. The Early Music Consort of Melbourne and our Baroque dancers performed to an enthralled audience. It was so good to be back in the beautiful Trinity Uniting Church, Brighton, doing what we love to do. Thank you to all who came out and masked up to enjoy the concert.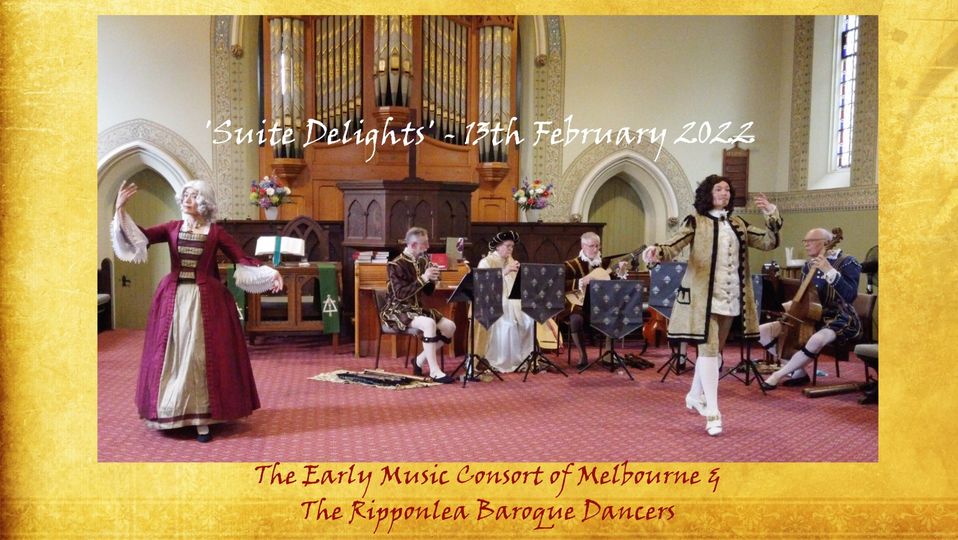 If you would like to watch a video of the Baroque dance suite 'The Address', you can find it on our YouTube channel here: https://youtu.be/IvNgaCiMZQk
Please remember to subscribe to our YouTube channel. Subscriptions (free, of course) encourage YouTube to make our videos known to a wider audience.
Some dates for your diary
Afternoon Renaissance Dance workshops
Sunday 27th March
Sunday 10th April
Bookings opening shortly. Limited to 12 places per workshop.
A concert featuring music and dance:
"Steps Back in Time":  Sunday 29th May and Sunday 5th June.